News Poland
By
Wojciech Rogacin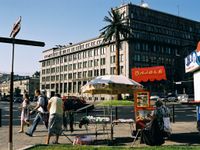 "
Greetings from Jerusalem Ave
"
(Warsaw, Poland) by
Joanna Rajkowska
Are Warsaw's streets, squares, crossroads good spaces to perform street art? Joanna Rajkowska, an artist who introduced her famous art project, the Palm Tree in Polish capital city ­ ­says it is an excellent place for artists to do their business. At least in terms of the city as a space.
Take for example the Jerozolimskie and Nowy Swiat crossroad, where the palm was installed. Simply: big traffic hub? No, if you have the soul of an artist. So Joanna saw there not only the road's junction but the beginning of the "new world and the avenue that once led to the Jewish quarter in Warsaw."
And after her return from Israel she felt that she must do something to express her emotions regarded her trip. And that's how she came to the idea of the palm. According to the artist street art has to say something, it has to provoke public discussions, it is a political factor within the society. Just like this was with famous street performances in 70's and 80's in the US. Now, the Warsaw's Palm has created a huge space for arguing among commuters, young and old journalists and also of course ­ among municipal administration.
It provoked also the conversation at March's
Consilience Forum
meeting at Bald Penguin. But Joanna asked herself who really took up serious discussion on broader public forum? And she answered ­ there was a lot of quasi­political arguing but little conversation about artistic meaning of the Palm.
Anyway, the first step was done.
The Palm
should soon come back to the crossroad and it will stand there for - probably - two years. Then there are a lot of other spaces in Warsaw that are extremely suitable for the street art performances. Luckily, we live ­ as Joanna says ­ in a "very poor city," in terms of art.
So at least Warsaw is a heaven for them, artists.